LET'S START EASY: WHO ARE YOU?
I'm a Hunnsbuckl. No, I'm THE Hunnsbuckl. Yes! Probably many people would consider me a true mirage. A hill that has come alive & strolling through the world could easily confuse one or another. Ha, right. Wouldn't it? I would rather say I'm a imaginary "animal" that my "mommy" created. She fills me with life (true - she does in every sense possible), lets me experience adventures & has given me a great, cuddly & cozy place in her studio. I feel more than comfortable there.
OK, BUT WHAT EXACTLY IS A HUNNSBUCKL & WHERE ARE YOU FROM?
Well, I'm actually from my "mommy's" homeland, the Hunsrueck in Rhineland-Palatinate, Germany. That's where the Hunnsbuckl live, my "mommy" says. Well, they're lying & sitting all over the place to be precise. Many people just walk over us & don't recognize us at all. We are small & big hills (I prefer mountains because it sounds more like something important than just a trap in the ground) in the middle of the landscape, hidden under trees, bushes, streets, houses and even whole villages.
They are quite lazy, shy, sociable but also stubborn mountains - as I am. My "mommy" saw us & then chose me out of all of them to come with her & have the adventure a tiny mountain deserves - at least that's what I heard her say, not sure she really said it that way. But let's not fuzz about these details.
Of course, I was only brought to "life" here in the studio & that's why my "mommy" is also my "mommy".
WHERE DOES YOUR NAME COME FROM - IT SOUNDS A BIT STRANGE, DOESN'T IT?
The people in the Hunsrueck are calling that area "Hunnsbuckel". So it's something my "mommy" grew up with. We never really liked the "E" in Hunnsbuckel, so we simply left it out for me.
After all, I am not a region, but an animal from this region. Or something like that? Hmm. Yeah, I guess that could be considerd right.
A lot of people think that I need a real name. But I disagree, after all there is only me & with "Buckl" or "Hunnsbuckl" I feel pretty well & unique. My "mommy" also sometimes calls me "nosy-nose", so if that makes people happy, I take that too.
HOW WOULD YOU CHARACTERIZE YOURSELF - IN 5 WORDS?
Five words? You must be kidding. How shall I get all of me into 5 words? Are they already included here? Hopefully not. Um. Yeah, I'd say :
Curious. Stubborn. Nuts. Lovable. Different. I'd like to add "buckly" if that's allowed?
BUT YOU WANT EVERYONE TO KNOW THAT YOU' RE NOT A DOG, WHY?
Because I'm a Hunnsbuckl. No poodle, no dachshund even if they are all so incredibly cute - but I am a Hunnsbuckl. A special kind! A tiny mountain. A imaginary animal out of a fantasy world.
It'd be like pressing the "cute little kitten" stamp on a lion. I'm sure he wouldn't like it either. In a way, he is a cat, but he isn't, do you know what I mean?
Or what about the Wolpertinger? Good example. Yeah. It's not a duck or a rabbit or a deer and duckfish, it's a fantasy animal. Just like me! Yeah.
But admittedly, for one or the other of my "mommy's" designs I have already slipped into the role of a dog, but only for the sake of pun. I'm quite versatile & do a lot of crazy nonsense. Nothing is as it seems & slipping into different roles is so much fun after all (note for later: should fill out some applications to become an actor). Apart from that, I'm me & I'm a Hunnsbuckl & not a dog.
But, if you would like to see a dog in me, then you are welcome to do so, because "fantasy shouldn't have any limits", says my "mommy".
ARE THERE REALLY A LOT OF YOU?
Generally yes. However, I am the only one who is doing a live gymnastics through the world - as a substitute for my siblings who are still stoned, sitting and standing where they are doing well. Ok let's be honest, they're really lazy fellas. "Mommy" says that I am unique, quite a thing.
I don't know exactly what that is, but I think it's something good, because she always smiles when she says that. Apart from that, I have enough crazy nonsense in my head to represent all my siblings worthily, she says.
WHAT'S THE DIFFERENCE BETWEEN A HUNNSBUCKL & OTHER IMAGINARY ANIMALS OR CREATURES?
Honestly, have you ever seen something like me before? I am unique, says my "mommy" like I said that must be something really great because she always laughs by saying that.
In general, I could be SO many things. Maybe I'm a little hill with a gigantic tree on my nose. Okay, it's still a bush, but maybe one day it'll grow into a tree?
Or what about that: I'm a big mountain which balances a village on its back - my buckl. And imagine what I could hide under my ears? A grove or a gem mine? I am a real treasure if we'd be honest for a moment. Who knows?
But one thing I know for sure, I have a eccentric & unique build which none of the other fantasy creatures have: My back is a buckl & I am incredibly proud to have it.
BUT WHY ARE YOU LIVING IN A DESIGN STUDIO RATHER THAN ENJOYING A LAZY LIFE WITH YOUR SIBLINGS BACK IN THE HUNSRUECK?
Well, when my "mommy" had to stop fashion because her health it made her very sad. Shortly before that happend she took me to work for the first time, because I was part of one of her collections. Absolutely low-buckl! Means the buckl is dropping sadly. By the way, this is how my "mommy" sees that I don't like something or that I am sad. A pretty cool expression isn't it?
We were pretty sure that we don't want to be without each other anymore & my little buckl with my smart mouth, should be the center of the label from now on. Buckl-up - happy me & "mommy"! So obviously it's the exact opposite of low-buckl! That's the way it should be.
She didn't want to leave the world of design, because she likes it very much. Sometimes too much, I don't like to share even if it's with myself... tztztztz. Sometimes I have to create some intentional chaos to stop her from working.
Admittedly, I don't have a clue-buckl of it & and that's why I trusted her with this part. Yes & for a few years now I am the muse of my "mommy" - sounds fancy doesn't it? I am "Hunnsbuckl" & she is "Iwazwersch" (but being honest it's the best decription for her; she is simply the clumsiest thing on earth & beyond). She's the boss - ok she thinks she is, but she knows for sure that's me who has the upper buckl.
We visit my siblings regularly when we have the time to do so because they are living more than 500 km away from us, but also my uncles and aunts - the alps. A new sort of hill & maybe distant relatives, which I can't sort yet, we met a few winters back: I think my "mommy" called them "molehills."
WHERE DO YOU LIVE?
I generally live in the studio of my "mommy" between all our designs, within the chaos of creativity. I got a huge, cozy basket to live, to be lazy & nuts in. In the evening "mommy's" dragging me home - one room further on. We live very comfortably & I am part of the family. How could I not be family? I am adorable.
WHAT ARE YOU DOING IN THE STUDIO ALL DAY?
Most of the time I'm sitting in my cozy basket, which is right next to the desk (luxurious location for curiosity, if you'd ask me) & watch my "mommy" at work - my absolute favorite occupation, because one of my weaknesses is that I'm so "curious". That's why my "mommy" calls me "nosy-nose". Yep. Especially when I sneaked my nosy-nose on the desk again & block all the work, just to see if everything was designed as I would have done it. If I'm doing these kind of things she graps me & puts me back into the basket - grinch!
From time to time I doze off, ok it happens most of the time & when I wake up she is already busy again with the next thing. Most of the things she's doing I simply don't get. Vectors? Codes? WHAT? But I don't have to, because she does it all right. I think the worst is when she talks about "patterns". Whenever a design begins to live, she speaks of "patterns". Oddly enough, nothing with dots or stripes ever arrives here, but always the same design in different colors or small & large Hunnsbuckls. Tze. But I love to watch her anyway & I am always proud when a new design is born.
WHY DO ALL YOUR PRODUCTS HAVE A KIND OF STORY?
Each of our products has its own story. Some we tell with the design itself, some are told by the name, others are more hidden & have to be found. Yet others only take place in the fantasy of the people who look at them. That's what`s fascinating about creating a world out of fantasy that is more reality than you may think it is.
A story is something great, because I wouldn't be able to give this interview you're currently reading. Being serious is something I don't want to think to much about, because the world & live itself is pretty serious enough. So that's why we think everybody need these story to escape & have fun.
WHAT DOES A HUNNSBUCKL OR THE HUNNSBUCKL WANT FOR THE FUTURE?
Something very ordinary: a chance to show you all our world. Our different, funny, colorful & so buckly world. Whoever wants "standard" should have a look at other labels, but since you have already come here, I assume that you are ready for something different.
We are ready to show you our world & we'll do that in english as well, so be ready for a lot of more Hunnsbuckl in the future...
We hope you enjoyed this little interview & that it helps you to understand what & who that little guy actually is.
Why we did this interview in black & white while everything in our world is anything but black & white? Well, because it's all about the facts. It's like a coloring book that starts in black & white as well. But be assured we'll start with the colors right now!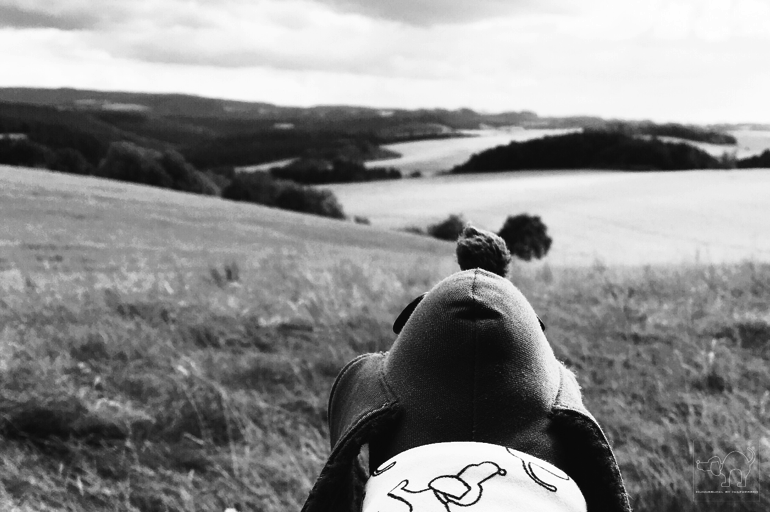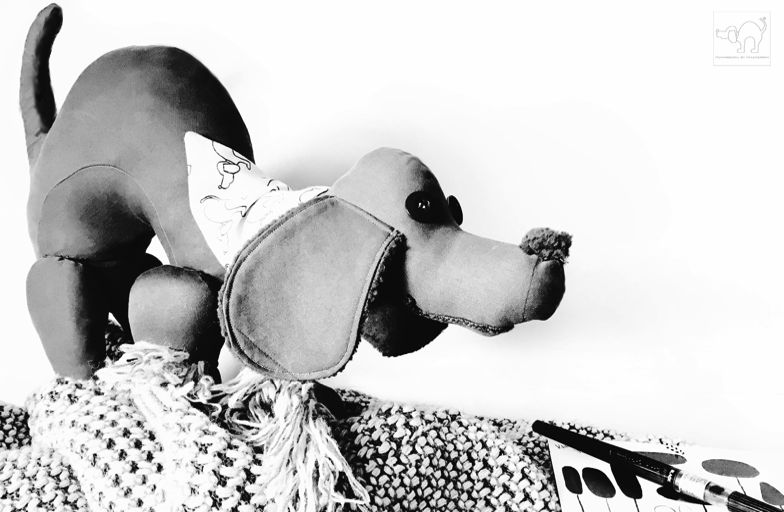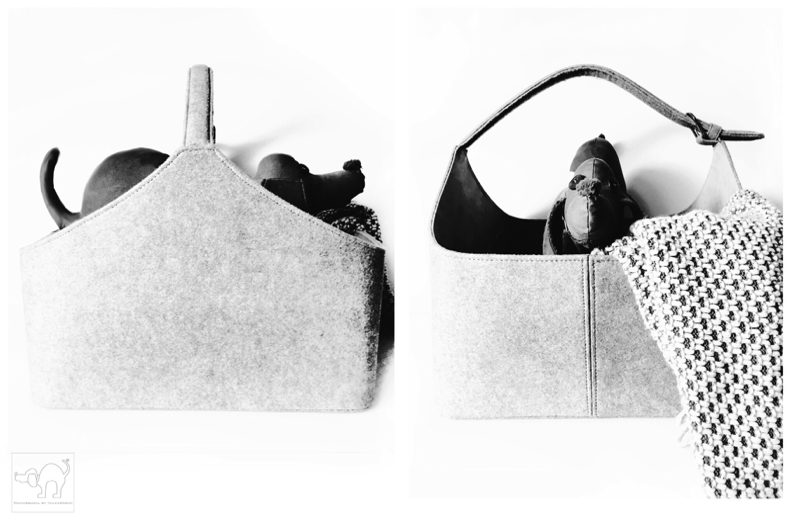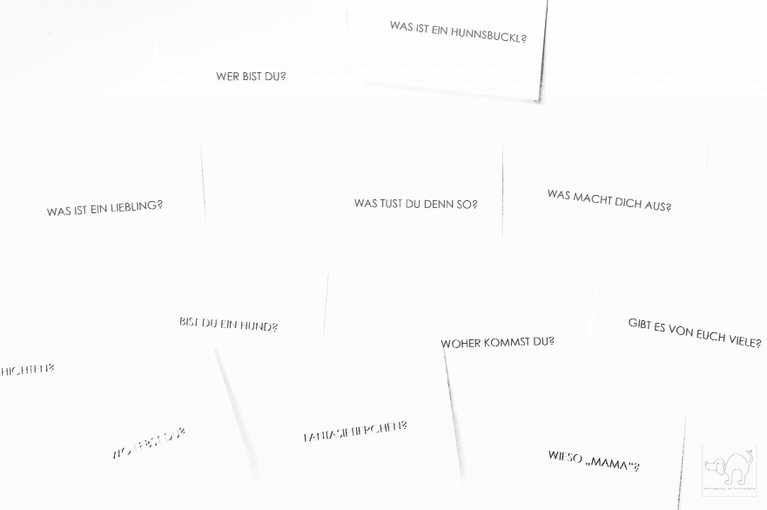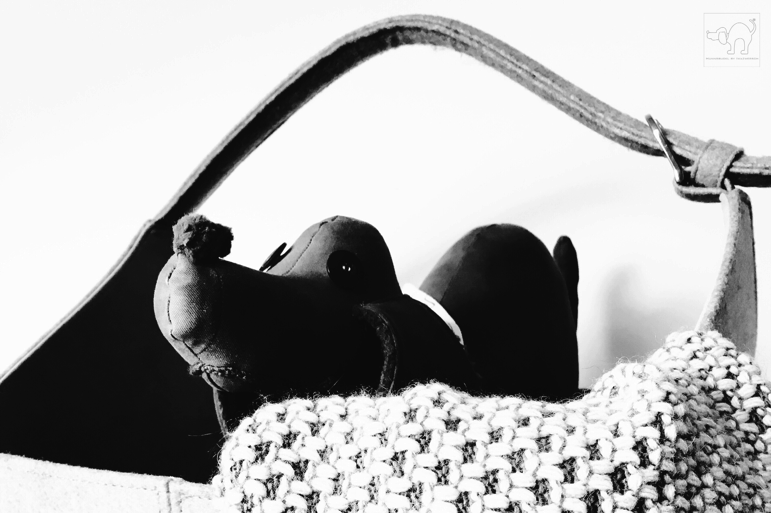 // THE HUNNSBUCKL INTERVIEW
DO YOU HAVE SOMETHING LIKE A HOBBY OR A FAVOURITE ACTIVITY?
Well, I have a weakness for all sorts of trees, houses, small & large forests with all sorts of animals living in it, houses & towns. I love to balance them on my back or hide under them.
That's why my "mommy" designed this motive as a kind of signature motive. It appears every now & then in many different ways. Similar to the signature of a painter under a painting. She even created a game out of this habbit or let's say my hobby!
Actually, I'm interested in everything & I want to have it all placed on my buckle someday. Even if it becomes very heavy & I might sag. Ouch! Ow! Well, then we'll just have to work on a buckl reinforcement. Note to "mommy": Strengthen my buckl!